Bill's Easter Message 2015
'Who will roll the stone away from the entrance to the tomb?' (Mark 16, 1-8)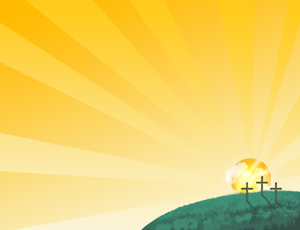 Friends, on Sunday 5th April we are going to meet at the Dovecot at 10.00 o'clock and you and your family are invited to join us to roll your Easter Eggs. We are doing that to remind us of the Bible story and how Christ arose from the tomb.
The truth we can take from this story is that a large proportion of all our fears arise from things which will never happen. We start the day with a mind full of all the things which could go wrong and we make all kinds of crosses and obstacles, so that even before we have started we are trying to carry not only the worries of today but those of tomorrow as well.
The comfort we can draw from this story is that we cannot wait until all the things we think are needed to make our Christian way clear or happen, because if we do friends, we will never move one inch. Like these women we have to step out in simple faith one step at a time.
May you find peace and comfort in the words of an old Irish blessing:
May the road rise to meet you.
May the wind be always at your back.
May the sun shine warm upon your face, The rain fall soft upon your fields
And until we meet again
May God hold you in the hollow of his hand.
May you and all your family know the peace and joy of the Risen Lord this Easter time and please be assured you will always be in our prayers.
Bill and Maureen Ross
Image on this page courtesy of Christian Clipart